Online Paid Article Writing Jobs
Latest article writing sites
Online paid article writing is the most popular home based job during these days. It does not required any professional skill nor much knowledge. It is one of high paying internet job.
You can earn hundreds of dollars per month sitting on your chair at home monthly.
It required an internet connection and a writing skill.
I suggest usually this job to students, because their fresh minds are eligible to research on any new topic and their fingers are ready to type. They can write immediately and learn as well.
Many of students write columns for their college magazines so they have to test their skills for making some extra cash.
There are many kinds of paid projects, one of them is called freelance article writing as I briefly wrote in my previous post.
Here I am describing in detail.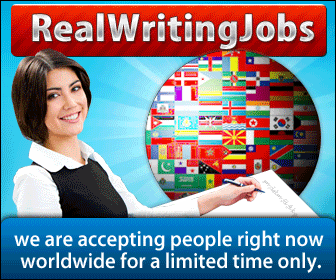 Freelancing Sites.
Freelance writers have many ways to find paid writing jobs but the most common route is to bid on writing projects which are posted daily at freelancing websites.
Freelancing sites are providing many online projects such as Article writing, data entry, SEO, web designing etc., you have to select your favorite work.
If you have a good writing skills, confidence and fair knowledge of English, you will success in your mission.
"Keep trust on yourself and work hard" you will never be disappointed.
If you want to know about best freelancing sites please
Read this
Direct Apply:
There are another way to search paid article writing job through classified ads seeking content writers at classified sites such as OLX.com, indeed.com cereerBuilder.com and other classified sites.
Professional writers who classify themselves as magazine writer send their writing assignments by attaching query letters to publishers for getting that position.
Copywriters a special skilled writers may promote themselves using local free classified sites and firms to pick up high paying marketing work. They can also use freelancing sites to advertise their talent.
Best Article Writing Sites for Making Money:
If you're skilled writer, you can work on sites that pay for each article you write.
Those sites are divided into two modules.
The first is content sharing where the website pays you a determent amount by displaying some ads when people read your article or click it.
It is not a best choice as comparing it with second option.
Well I am listing some content sharing sites, they may earn you some extra money but not enough.
Revenue Sharing Websites:
1.
Blogger
:
The free and most popular platform which provide you a little chance of
making money
by displaying ads of
Google-AdSense
and other advertising companies,
Here you can share your thoughts about any topic, write reviews, articles about Games,Supports cooking products etc.
You should write on topics in which you have a good command and knowledge.
It may requires SEO and sometime web designing for better attracting and getting some traffic.
You need a Gmail account for accessing and making your blog.
You can also use it for article marketing and
earn huge income
by selling 3rd party's products.
2.
Word Press
:
It is similar platform like a blogger.
It provide many beautiful plugins for making your blog more attractive and useful for readers as well as for writer.
This will give you a complete control over the elements involved, you have to create backlinks, get traffic and impress your users.
3.
Hub page
:
This site is very simple to use and manage. Simply join this site and upload your first

Article

, You'll need to wait for its approval but as long as it is consist on about 800 words and free of grammatical and spelling mistakes it should be approved soon.
You need
Google AdSense
account for
displaying ads on your articles
, it could be harder but possible.
In the Hub pages you won't own the pages you will create, you will retain copyrights over the content you write.

So you don't have to control traffic, creating
backlinks
and other
SEO
work.
They will optimize your content automatically and represent them before the readers.
You will be free for concentrating on your writing.
4.
Helium
:
It is a writing community where

You can choose your
own topics for writing
.
There are two ways to earn money through Helium. The First way is to earn money through their ad revenue sharing program.

Payment will be made upon your personal readers and Traffic which will be brought by your
Article
. Minimum cash out is 25$.
You can also write for
Helium's Clients
under their assignment board.
Your articles will be sold
to publishers and websites owners who need content for their sites and products.
Get paid to write reviews about products and websites:
1.
Epinions:


If you like to write your opinion about products

, you should try
Epinions.
Here you can
write your reviews
about products which are available for sale on shopping stores all over the Internet. ( Does not matter it may be positive or negative)
Epinions

From this review you will earn credits which will be redeemable in US Dollars.
Minimum payment is 10$ for U.S residents and 100$ for non U.S residents.
You will help buyers to make their decisions on buying or not buying the product based on your review.
2.
Demand Media studios

:
First you need to apply for demand media studios. Once you are accepted you will receive daily tasks and assignments which will require you to
write about
.
All tasks and assignments will be based on your knowledge and skills.
You will be given the work in which you have a good specialty.
You can earn from 15$ to 30$ per
published article.
3.
Sponsored Reviews
:
It is a place where advertiser looks for blogger to write about their products.
You can earn as blogger by writing about their products on your own blog.
Best Article writing sites:
1.
Blogging.org

:
Best paying website for writing.
Here you can also purchase Articles for your blog or websites.
You need to

write quality articles to earn from blogging.org.

If your article is sold you will get paid certain amount of money which may be starts from 3.00$ to 30$.
Bloggin.org
If you have bought a premium membership you may earn around 30$ per hour.
However there is no mention the limit of earning for simple members but premium members are fixed to earn up to 30$ per hour.
2.
Constant content

:
This is a good plate form which allows writers to sell their articles.
There are several categories for

writing

about.




There is a public request system where writers can submit their articles to buyers who are looking for a content on selected topics.
3.
List verse
:
It is an amazing site where you can submit a list and
write about your favorite List
.
It focuses on all type of Top 10 Lists, You can earn 100$. Payment will be made through PayPal or bit-coin. You must try to this site.
4.
Real Writing Jobs
:
This site costs some fee and provide writing works to their members. They accept members from worldwide. You can get paid from several ways like writing stories, Articles, Writing for blogs.
You can earn up to 50 dollars per day using your skills.
They also provide many facilities such as "
work from home
, set your own working hours, work directly online,
Pick topics to write
daily and earn Excellent income.
Get paid to write on selected topics:



It is a learning community where thousands of articles are published on daily basis.

The goal of

writing articles is to teach or guide people on specific topics.






If you have enough knowledge about the topic of "how we can save money or how we can make money" you can

write for Penny Hoarder.




If you are interested to write about lifestyle and environments you have to join this site.

You can contribute on this site by writing about education reforms or changing world's leadership or political reform etc.




The best funny content sharing site.

Earn money

through creating funny stuff including articles, comedic videos, funny pictures and much more.

There are millions of visitors who will see your stuff and you will get paid from 25$ to 50$.

This website offers a great opportunity to earn money, if you are funny, creative and intelligent person. Write daily jokes, funny stories and earn Extra income.

Culture

:

Millions of writers are getting paid by publishing their articles on this online magazine.

Most of articles are written about Films, entertainment, dramas, Gaming sports and other interesting topics.
I have researched hard and found many sites some of them i posted here and others i will try to post them soon.
If you find some useful please share my post on social media that other people also get some benefit from this post.